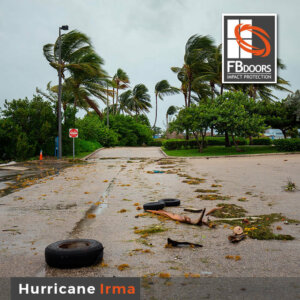 At FB DOORS, we care about the kind of security your family needs in the presence of hurricanes. We like keeping you informed about the risks of hurricanes; one of the most lethal storms that have passed through the United States in the last decade was Hurricane Irma, a powerful and catastrophic tropical cyclone in 2017. It was the strongest observed in the Atlantic since 2005 in terms of maximum sustained winds. It was the first category 5 hurricane recorded to impact the Leeward Islands, and the most expensive hurricane in Caribbean history.
Irma was a storm from August 30 to September 15, with a maximum wind of 285 km/h, leaving 134 people dead. The most affected areas were Cape Verde, Barbuda, San Bartolomé, the Dominican Republic, Anguilla, San Martin, the US Virgin Islands, Cuba, Puerto Rico, Turks and Caicos, the Bahamas and the United States.
On September 4, the Governor of Florida, Rick Scott, declared a state of emergency for the state. Authorities advised residents to store their hurricane kits, and all offices and schools were closed. On September 6, the mayor of Fort Lauderdale ordered mandatory evacuations for all residents east of US 1. In addition, the city of Tampa, on the west coast, declared a state of local emergency.
Temperatures of the sea surface in the path of Hurricane Irma
Irma made US landfall in the Keys, arriving at Cudjoe Key on September 10 with 3 meter high waves in the afternoon. A second landing was made as a category 3 hurricane, on Marco Island at 3:35 p.m. the same day. Tampa Bay was drained before the arrival of the eye of the hurricane. A 175 km/h windstorm was registered in Pembroke Pines.
After leaving the Keys, the hurricane headed for the west coast of the Florida peninsula, and was downgraded to category 2. However, Miami recorded gusts of up to 160 km/h, registering blackouts, cranes falling off construction buildings, and massive flooding in its streets.
In the state of Georgia, three fatalities were reported as a result of blasting trees and debris; South Carolina saw one fatality reported. In Tybee Island, the meteorological phenomenon caused extensive floods, while in Charleston the swell reached approximately 3 meters, becoming the third largest storm in recorded history.